Welding Blankets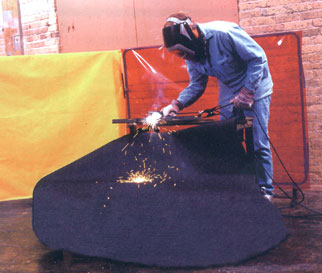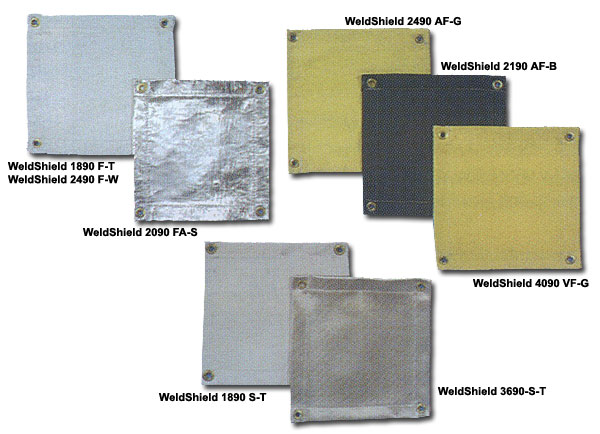 WeldShield welding blankets are fabricated with high-temp thread and brass grommets every 2'; they are then individually poly bagged for ease in shipping, storage and handling. All stock sized blankets will run smaller in their finished dimensions by several inches due to the fabric lost in the hemming and seaming operations. Finished sized blankets may be ordered at an upcharge if final dimensions are critical. Order Now
Welding blankets carry ratings in degrees Fahrenheit for constant, intermittent and melt. Typically these values will range from 300 degrees constant all the way up to 2500 degrees intermittent with 3000 degree melt. The "constant" rating is intended to define the maximum temperature an object may be at and be in direct contact with the blanket. The "intermittent" rating (also referred to as excursion temp) is what the fabric can take for short exposures without damaging the cloth. The "melting" temperature is the point of no return where the fabric is physically damaged due to prolonged exposure to excessive heat. In many cases, a lighter weight and less expensive blanket can be used effectively with proper site controls regarding the fabric's exposure to direct contact w/ slag, torch cut debris & splatter. The fabric style, construction, weight, coating and thickness will vary as these temperature ranges change.
Fire Retardant Material
Welding blankets, by traditional definition, are a step above fire retardant or fire resistant tarpaulins. FR tarpaulins generally are required to pass NFPA 701 burn test to qualify with the fire marshal for an FR rating. This does not mean that these tarps do not burn, it simply means they will self extinguish once the source of the flame is removed. Welding blankets, on the other hand, are designed to handle much higher temperatures for prolonged periods. Also, welding blankets, commonly referred to as "fire proof blankets" do not burn, they melt.
Select fabric and dimensions from the table below by clicking a button in the grid.
Note: these are all cut sized and slightly smaller than dimensions stated due to loss of fabric in seaming and hemming.
You may return to this screen repeatedly to add additional screens to your shopping cart.
If you do not see the size and weight you want in the table below, use our custom tarp configurator to design a tarp in any size, weight, finish and color.
Gloves should be worn when handling any welding blanket product and especially so with the uncoated fiberglass products such as WeldShield 1890 F-W, WeldShield 2490 F-W and WeldShield 2090 FA-S.
View Fabric Specifications | Material Safety Data Sheets | Frequently Asked Questions
Order Standard WeldShield Welding Blankets
Cut Size
1890 F-W
Tan
2490 F-W
White
2090 FA-S
Silver/White
1790 NF-P
Salmon
1790 SF-G
Silver/Gray
1790 SF-R
Red
2490 AF-G
Gold
2190 AF-B
Black
2090 VF-G
Gold
4090 VF-G
Gold
1890 S-T
Tan
3690 S-T
Tan
3ft x 3ft
4ft x 3ft
5ft x 4ft
6ft x 4ft
5ft x 5ft
6ft x 5ft
6ft x 6ft
8ft x 6ft
9ft x 6ft
8ft x 8ft
10ft x 8ft
12ft x 9ft
15ft x 9ft
18ft x 9ft
10ft x 10ft
15ft x 10ft
12ft x 12ft
18ft x 12ft
20ft x 12ft
---
The three predominant base fabrics are fiberglass, silica and Aramid in ascending order of cost. The fiberglass families of welding blankets are available as uncoated base fabrics (most economical) as well as with a number of different coatings including silicone, neoprene, Hypalon, aluminum, and Vermiculite. The uncoated fiberglass blankets come in two different weights: 18 oz/sy (WeldShield 1890 F-W) and 24 oz/sy (WeldShield 2490 F-W). There is also a 1-side Aluminum coated fiberglass (WeldShield FA-S) that is ideal for heat reflection and direct heat contact.The silicone coated fiberglass is generally used a as curtain for protection against molten metal splash and is good to 500 degrees Fahrenheit (WeldShield 1790 SF-G or 1790 SF-R). The salmon colored Neoprene coated fiberglass in the 17 oz/sy fabric is ideal for use as a grinding shield to contain sparks and splatter with a service temperature to 300 degrees Fahrenheit and a 1000 degree melting temperature and is easy to handle without the scatchiness associated with raw fiberglass (WeldShield 1790 NF-P). The green colored Hypalon coated fiberglass comes in an 18 oz/sy coated fabric weight and is best deployed around oil & grease environments and displays exceptional strength, abrasion & puncture resistance, and low smoke (WeldShield 1890 HF-G). The gold toned Vermiculite coated fiberglass is available in both a 20 oz/sy (WeldShield 2090 VF-G) and a 40 oz/sy (WeldShield 4090 VF-G) and both are more expensive than the rest of the coated fiberglass products but ideal for high temp applications in small confined spaces where other flammables are nearby. A good example of this would be welding or soldering near wood framing.
The Silica cloth Welding Blankets are a mid-priced option with the highest ratings for service, intermittent and melt temperatures. These tan colored fabrics are soft and pliable with a good "hand" and conform easily to any covered object. They can handle constant temperatures to 1800 degrees F, excursions to 2500 degrees and won't melt until 3000 degrees. They come in two different fabric weights: 18 oz/sy (WeldShield 1890 S-T) and 36 oz/sy (WeldShield 3690 S-T). These blankets are the professional's choice for severe welding applications involving extremes in heat, slag, welding sparks and molten metal splash.
The Aramid product is available in only one style as a 23 oz/sy black fabric known as Altex 400. The Aramid blend material is a man made fiber typically containing exotic fibers like Kevlar and it has a service temperature to 650 degrees Fahrenheit and displays excellent strength and abrasion resistance. It is considered more durable than standard fiberglass products and is also very flexible with little stretching, offers good chemical and mildew resistance, and is un-affected by most acids and alkali solutions. This is a special order product that requires added leadtime to fulfill most orders.
No matter what your choice, WeldShield Welding Blankets are an excellent value and will give many years of use when used properly. Feel free to contact us with any questions at info@welding-blankets.com.
In only 3 1/2 minutes, the heat from a house fire can reach over 1100 degrees Fahrenheit. (Fact Sheets about Injuries and Injury Prevention)
In a home fire, the peak temperature and duration of the fire can vary depending upon the size of the home, the materials used to construct the home, the response time of firefighters, etc. It is estimated that the typical peak temperature in a home fire ranges between 800 to 1200 degrees Fahrenheit. The typical time for firefighting authorities to bring a home fire into containment is estimated at 15 to 30 minutes.
Paper chars at approximately 402°F. To protect paper documents, the internal temperature of a safe must remain below 350°F while exposed to the conditions of the typical home fire. Thus at a minimum, a safe should provide enough fire resistance to keep the maximum internal temperature of the safe below 350°F, when exposed to external temperatures of 1200° for 30 minutes. (Liberty Safe & Security Products, Inc)
---
Frequently Asked Questions
We have a requirement to put fire blankets around some semi-tires in our application. Our question is around how well does the material stand up to extended exposure to sunlight, water and freeze thaw cycles etc. Is it better to get a coated blanket for the environmental concern? Also after some fire exposure testing we may be requesting custom fit blankets for the longer application. Is that something you can do?
I would go with a coated fabric, either black WeldShield 2190 AF-B or gold WeldShield 2490 AF-G (see column choices 5 & 6 from left side of the table above) can be custom sized by clicking on "custom tarp configurator" link in paragraph above the table of stock sizes. An uncoated fiberglass or silica product could wick moisture and cause early breakdown of the fibers. Sunlight is no factor. As long as you are not talking cryogenic like temperatures, the cold should not have an effect on the blankets once they return to a reasonable temperature. They will get brittle at very low temperatures, below 32 degrees F, but would retain their resistance to slag, sparks, etc.
I'm looking for a welding screen, would these work for this application?
No, we would recommend you take a look at our other site dedicated to Welding Screens.
More questions?
Call us at 888-634-6462, or email us at info@welding-blankets.com.

info@eTarp.com • PO Box 35 • Curtis, MI 49820-0035
1-888-ODIN-INC (1-888-634-6462) • 262-569-7171 • 800-835-8467
(Solicitation calls will Not be accepted)